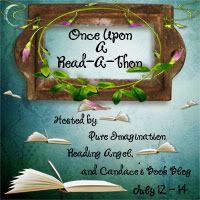 The very last challenge for this read-a-thon is hosted by
Not-Really-Southern Vamp Chick
. Here's what she had to say:
1. Pick up 6 random books from your bookshelf (and/or use the books you're reading)
2. Take the first sentences from them.
3. Come up w/ the best 4 sentence opening paragraph to a book you can manage.
4. YOU GET A BONUS POINT IF IT INVOLVES VAMPIRES!
5. Leave your paragraph in the comments.
6. This could get interesting!
This looks like tons of fun; I can't wait to get started. Just let me go grab 6 random books....
Okay, I'm back. I'm going to write my paragraph first, to give you all a chance to see if you can recognize any of the sentences.
As summer wheat came ripe, so did I, born at home, on the kitchen floor. "Yep, I have a seriously sucky birthday," I told my cat, Nala. It is Nicko's first night out of the House of Foryx, and Jenna thinks he is going a little crazy. We have been lost to each for so long.
Septimus Heap, Book 5: Syren
by Angie Sage
Out of the Dust
by Karen Hesse
The Constant Princess
by Philippa Gregory
The Tender Years
by Janette Oke
The Red Tent
by Anita Diamant
House of Night 3: Chosen
by PC Cast and Kristin Cast
If you can guess which books I didn't use, I'll give you a week-long spotlight on this blog and my main blog (
Artistically Amy
).