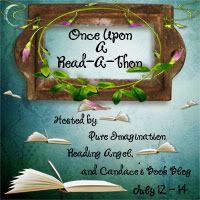 The second challenge for today is hosted by
Book Faery
. Here's what she had to say:
1. Go to this link (you'll need a Google account)

* Zoom in to find the location you want.
* Hit edit (it's at the top right corner to the left of the map)
* You'll now have the ability to add a pin mark to the map. To locate the pin mark, look at the top left hand corner of the map. It should be the middle button.
* Enter the location(s) of where your books took place! Be sure to include the author's name & the title of the book and your blog name & address.
* Click OK to add your pin to the list.
* Click DONE in the left sidebar.
* Check out all the other locations.

2. Come leave a comment telling me you posted your pin(s) & your email address.
If you click the link, you can go look at my pin! It's located in Ludlow, Great Britain. Since I am currently reading
The Constant Princess
by Philippa Gregory, which takes place in several different places, I just picked one spot.