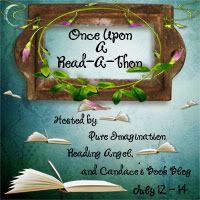 This first challenge is hosted by
Book Crazy
. Here's what she says:
We all have a favorite book, right?
We all have a favorite character, right?

What I want you to do, since I am a lover of all things music and photo related is to pick one - or both - and put them together!!

Does that make sense? HMM, lets see if I can explain better, basically pick your favorite book and/or character and pair it with a song and/or photo that reminds you of the person or setting in the book!
Hmm... Tough one. I have SO MANY favorite books. I'll have to cave and use The Twilight Saga for this part. The setting is Forks, Washington. Now, I've never been to the West Coast. But there are some areas here on the East Coast that could easily pass for Forks. This is a photo I took in New Hampshire when visiting friends. I joke that I can see Edward hiding in a tree.
And as for a favorite character, again, SO MANY. But I did this part backwards. One of my favorite songs that I listen to often is Thom Yorke's
Hearing Damage
. This song is on my novel playlist because it really evokes feeling. It helps me
see
things happening.
This song reminds me a lot of Jace Wayland from the Mortal Instruments trilogy because of everything that poor kid goes through. I can hear this song as he is standing there, holding the knife to Valentine, and as he runs through the boat, looking for Clary. This guy, Alex Pettyfer, is pretty much spot on for Jace.