i am participating in the Spooktacular Book Blog Giveaway Hop that is being run by Kathy over at
i am a reader, not a writer
.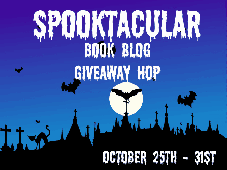 For my first book blog giveaway, i am starting small:
a $10 email gift card from Amazon!
like i said, i'm starting small. but still, $10 can go a long way! my fiance and i used a $10 amazon card to get 2 used books for him and a wedding planning book for me. not too shabby!
how to enter:
i don't want to make this difficult for you. to enter, simply follow me and then leave a comment with your email address. if you follow me, but don't leave a comment, how will i know you want to enter?!
so that's it, 2 steps.
step 1:

follow me (gfc or blogger)


step 2:

leave a comment with your email address.
DONE!
okay, go click follow. it's over there, to the left.
this was supposed to be US only, but it's through email. so international bloggers can enter, too!
oh, and don't forget to check out all of the other blogs that are giving away fun stuff. (but first, make sure you follow me and comment here!)